Delhi deputy chief minister Manish Sisodia
NEW DELHI: "Yes, we are doing politics over education. It is our responsibility to bring education into politics. We want to do it," said Delhi deputy chief minister Manish Sisodia before going on to announce that education would get the largest share of 26% in the 2019-20 state budget. He also announced the setting up of two new universities - one for applied sciences and the second for teachers' training - enhanced assistance for students and teaching funds for teachers.
Sisodia claimed that the proposed university of applied sciences would be the first of its kind in the country and would lead to the revival of student interest in skill-based institutes. He said the popularity of the industrial training institutes (ITIs) and polytechnics indicated the need of such a university.
"There will be programmes for vocational education of three to 12 months, modular programme in various trades, certificate courses of one to two years, and diploma, degree, postgraduate, MPhil and PhD courses in the university," said Sisodia.
The deputy CM and finance minister said the proposed teachers' training university would similarly be the first experiment of the sort in India.
Sisodia promised that Delhi government would add 10,000 seats in the universities under its jurisdiction. He also said that the government would continue to start new courses, including an MBA in Family Business programme first in Delhi Technological University (DTU) and later in other state universities. This new course follows the earlier announced happiness and entrepreneurship curricula.
Announcing the digital learning scheme, the budget said that under this initiative tablet computers will be provided to students of classes XI and XII of 22 RajkiyaPratibha Vikas Vidyalaya and the five 'schools of excellence'. A sum of Rs 9 crore has been proposed for this. The scheme will also be extended to students of government schools who score over 80% marks in the CBSE Class X board exam.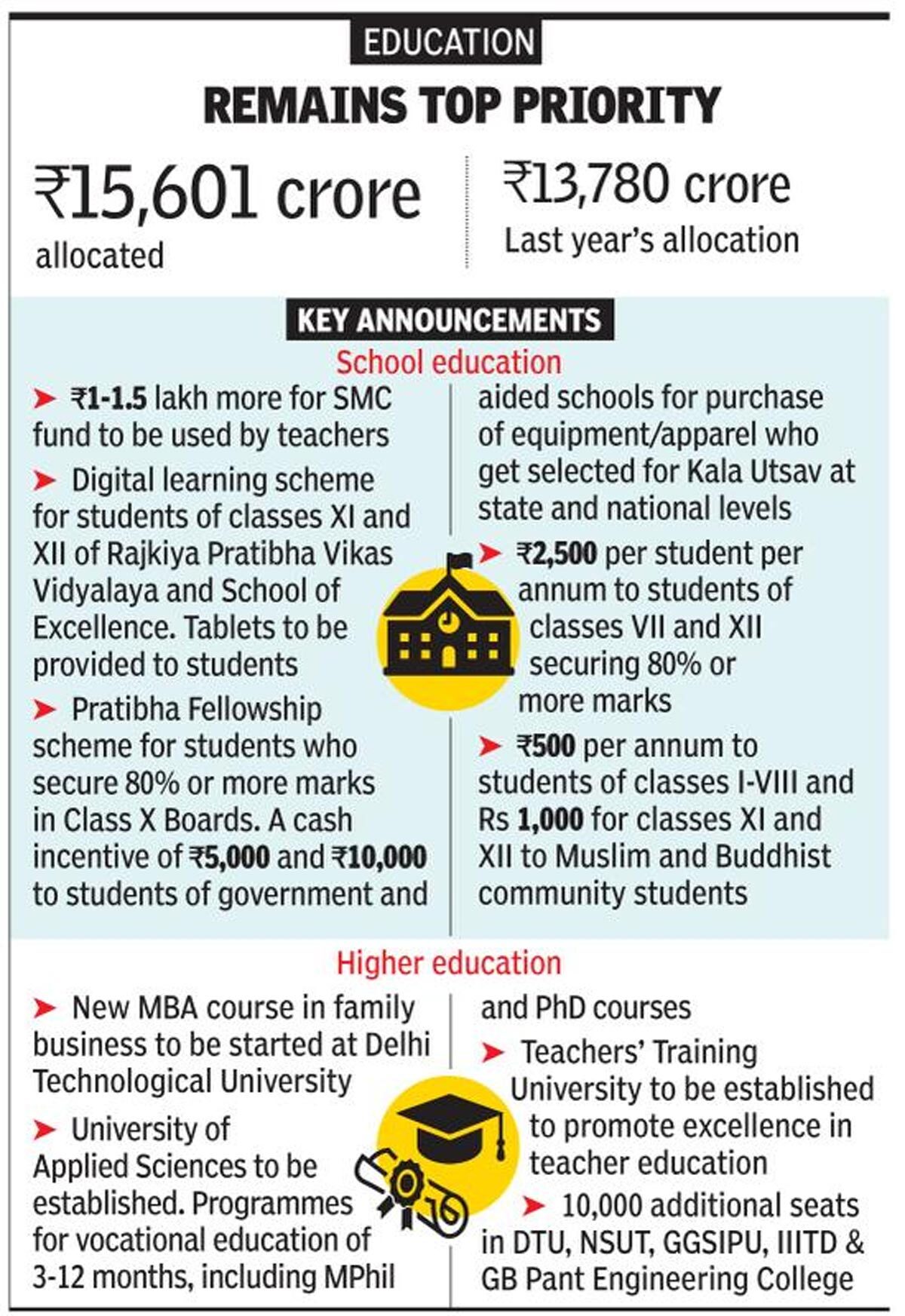 While promoting education, the government seems to have realised that institutions can greatly contribute to art and culture. So in addition to the new initiatives called Delhi Kala Kendra and Yuva Mahotsav, Sisodia also announced a scheme called Pratibha Fellowship, in which cash incentive ranging from Rs 5,000 to Rs 10,000 would be given to students of government and government-aided schools selected for the cultural events at state and national levels.
Beside this, students in classes VII to XII obtaining over 80% marks in their exams can look forward to the Chief Minister's Scholarship, worth Rs 2,500 per annum. This scholarship will not be limited by any ceiling in the parents' income. The rate of scholarships given to Muslim and Buddhist students has been increased from Rs 300 to Rs 500 for those in Class I to VIII and from Rs 600 to Rs 1,000 for those in classes IX to XII. However, this will be conditional to annual parental income being Rs 2 lakh or less.
The budget also promised assistance for teachers amounting to Rs1-1.5 lakh a year for new teaching activities, besides which each school management committee can allot additional funds for the purpose.